Check out the latest technology from Sinclair – Print On Demand Labels.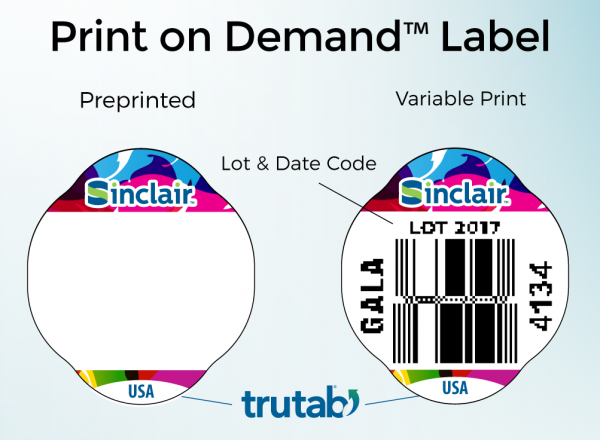 Print on Demand or POD is variable print technology at its best. It means you can print and apply exceptional quality labels with variable information to your fruit and vegetables as they travel on single or multi lane sizers.
It's fast – the POD system prints and applies labels on up to 720 pieces of fresh fruit or veggies every minute with variable information like PLU's, dates, lot codes or other details you choose.
It's flexible – labels come in 8 different shapes and sizes, with or without tabs including the unique Sinclair TruTab® label. It's the only tabbed label available for Print on Demand variable labelling.
POD at a Glance
Use on single or multi-lane (from 1 to 12) sizers
Uses quick change SmartCassettes
Can be used with non-tab and Sinclair TruTab® labels
Prints labels with variable data like PLU, lot codes, dates
Choose from 8 different label shapes and sizes
Labels up to 720 pieces of produce per minute
Exceptional nationwide service and spare parts are included
Our labels are BRCGS Certified

 BRCGS certification is the Global Standard for Food Safety and covers packaging and packaging materials, storage and distribution for consumer products. The BRCGS sets the benchmark for good manufacturing practices and helps provide assurance that products are safe, legal and of high quality.
Suits: Apples, Apricots, Avocado, Citrus, Kiwifruit, Lemons, Limes, Mandarins, Mangoes, Nectarines, Peaches, Pears, Stone Fruit, Tomatoes