Sinclair CPL – Tray Labelling
Here's the latest in customised, programmable, compact pattern labelling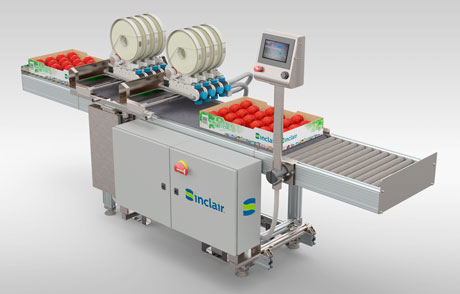 The Compact Pattern Labeller (CPL) is the latest generation of smart tray labellers. It can store up to 500 programmable and customised tray patterns, is easily integrated with packhouse management systems and can be controlled remotely.
The CPL bellows extend up to 50mm to accommodate different sized produce and has height adjustment for different tray depths. The CPL has lift arms that can be adjusted automatically to label produce of differing sizes, in trays or in liners.
The CPL labels between 1,000 and 2,500 trays an hour depending on the tray size and pattern.
CPL at a Glance
Labels 1,000 to 2,500 trays an hour depending on the size and pattern
Stores up to 500 programmable customised tray patterns
Remote connectivity for configuration and trouble shooting
Programmed and managed by touchscreen
Allows remote access
Suits: Apples, Apricots, Avocado, Kiwifruit, Mandarins, Mango, Nectarines, Oranges, Peaches, Pears, Plums, Stone Fruit