Stand out from the crowd with collectables, QR codes or limited-edition labels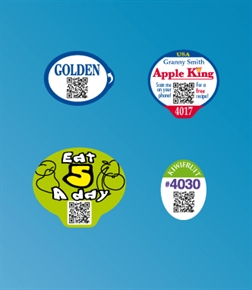 The Collectables range have all the great benefits that you've come to expect from Sinclair labels and are a great idea for promotions, competitions or other special offers. Collectables can be printed with product and variety information, 2D or QR codes – whatever is needed.
All Sinclair labels and made-to-measure application machinery are recognised for their quality, reliability and value and are fully supported by our factory trained technicians for your peace of mind.
Labels at a Glance
Our labels can be easily removed using TabLift™ and are recommended for all edible skin fruits and vegetables
Are all made using micro-thin PE film
They are completely safe to use and are food contact compliant (FDA/EU)
Can be applied to curved or uneven surfaces
All our adhesives are food safe
Printable with EAN, UPC, QR or Databar barcodes
Are available as double-sided options ideal for special promotions
Our labels are certified to the global ISO9001:2008 Quality Management and BRC/IOP Packaging Standards
Suits: Apples, Apricots, Avocado, Cantaloupe, Capsicum, Citrus, Grapefruit, Kiwifruit, Lemons, Limes, Mandarins, Mangoes, Melons, Nectarines, Oranges, Peaches, Pears, Plums, Stone Fruit, Tomatoes, Tropical & Exotic Fruit