Make 'Vert Bags' from pre-formed rolls of net and film and print the entire film width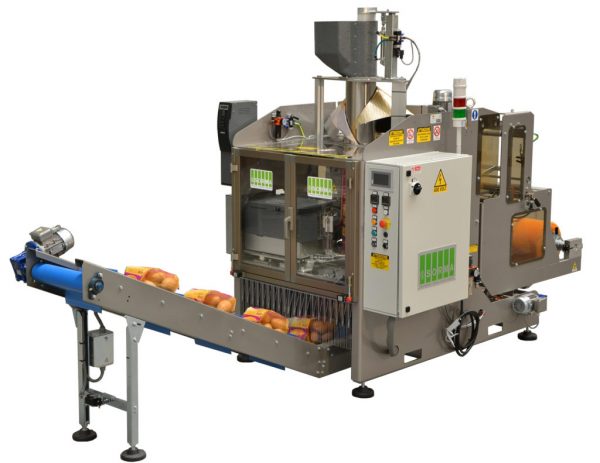 The BSS-134 packs fruit and vegetables into Vertbags. The packaging is delivered in pre-formed rolls made from a net and film combination that gives great options for printing across the entire width of the front and back packaging strip.
An option for the BSS-134 is an electronic labelling option that applies an adhesive label directly onto the packaging strip or by a thermal transfer system.
BSS-134 at a Glance
Pack weights up to 3 kg
Makes approximately 32-35 packs per minute for packs up to 2 kg
Makes approximately 30-32 packs per minute for packs up to 3 kg
Uses pre-formed net and film packaging
Vertbags are heat-sealed to close
Suits: Apples, Apricots, Avocado, Capsicum, Citrus, Garlic, Grapefruit, Kiwifruit, Lemons, Limes, Mandarins, Melons, Nectarines, Onions, Oranges, Passionfruit, Peaches, Pears, Pomegranate, Potatoes, Stone Fruit, Tomatoes, Tropical & Exotic Fruit
Output:
Up to 32-35 packs per minute for packs up to 2 kg
Up to 30-32 packs per minute for packs up to 3 kg

Installed power:
5,7 kW - 50 Hz - 400V
Air consumption:
740 Nl/min - 6 bar
Suits: Apples, Apricots, Avocado, Capsicum, Citrus, Garlic, Grapefruit, Kiwifruit, Lemons, Limes, Mandarins, Melons, Nectarines, Onions, Oranges, Passionfruit, Peaches, Pears, Pomegranate, Potatoes, Stone Fruit, Tomatoes, Tropical & Exotic Fruit