The biggest and the best labels available for larger fresh produce like watermelons and pumpkins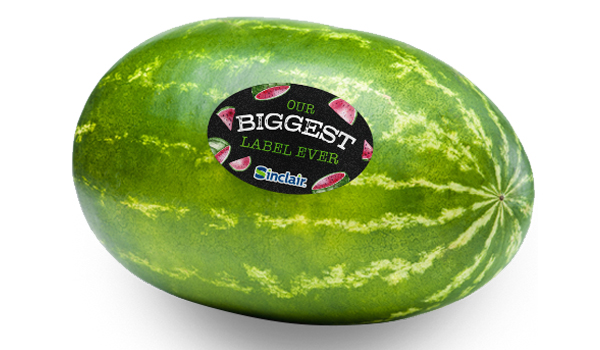 These large labels are the ones to use on watermelons, pumpkins or other BIG produce and are new from Sinclair. They're available in four different sizes and use Sinclair's Large Label V6 technology for application. Labels are applied at high speeds of between 120 – 400 pieces per minute.
Large labels are the perfect solution for promoting your brand in a BIG way!
Large Labels at a Glance
Large Label sizes up to 78mm x 61mm
Label speeds of 120 – 400 pieces per minute
Variety of shapes available
Removes with no adhesive residue
Food-safe
BRCGS Packaging and Packaging Materials Certified

 BRCGS certification is the Global Standard for Food Safety and covers packaging and packaging materials, storage and distribution for consumer products. The BRCGS sets the benchmark for good manufacturing practices and helps provide assurance that products are safe, legal and of high quality.