A continuous bin tipper for delicate fruit, it self-adjusts for different height bins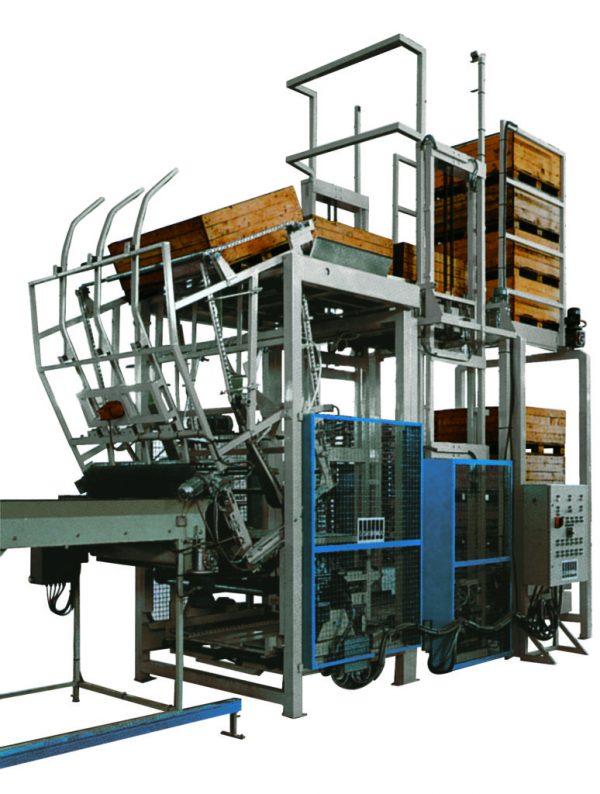 A chain operated continuous bin tipper particularly suited to handling soft or delicate fruit and vegetables.
The RCE-111A is self-adjustable for different bin heights between 540 – 850mm, and empties up to 100 plastic or wooden bins per hour. A high capacity bin tipper, it handles 3 or 4 stacked bins in the in-feed section, 3 or 4 in de-stacking, two tipping (of which one is constantly in the tipping phase), 3 or 4 empty bins in re-stacking and 3 or 4 bins on the outlet storage conveyor.
Options for this tipper include double brushes on discharge for delicate fruit, electromagnetic or pneumatic vibrating devices and additional bin stations.
RCE-111A at a Glance
Empties from 5 to 100 bins per hour
Suits soft or delicate fruit and vegetables
Self-adjustable for different bin heights 540 – 850mm
Suits: Apples, Apricots, Avocado, Citrus, Grapefruit, Kiwifruit, Lemons, Limes, Mandarins, Nectarines, Oranges, Passionfruit, Peaches, Pears, Stone Fruit, Tomatoes, Tropical & Exotic Fruit
| | |
| --- | --- |
| Production: | Up to 100 bins per hour |
| Bin dimensions: | Length 1100- 1220mm, Width 1000 – 1220mm, Height 540 to 760mm or 580 – 800mm |
| Bin weight: | Less than 450kg |
| Tipping height: | 1570mm |
| Power required | 14 kw - 50 Hz - 400v |
| Air consumption: | 160 Nl/min - 6 bar |
Suits: Apples, Apricots, Avocado, Citrus, Grapefruit, Kiwifruit, Lemons, Limes, Mandarins, Nectarines, Oranges, Passionfruit, Peaches, Pears, Stone Fruit, Tomatoes, Tropical & Exotic Fruit