A self-adjusting single bin tipper for delicate fruit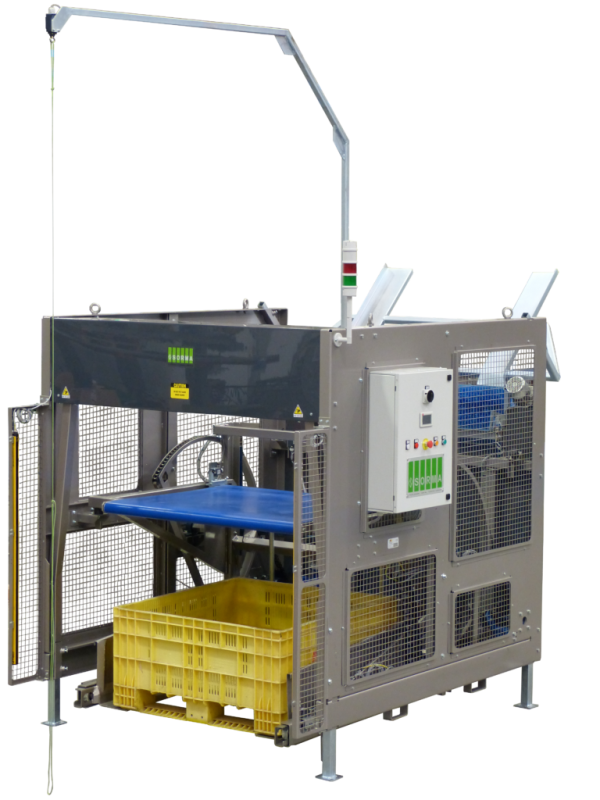 A chain operated tipper for single bins, the RC1-111 is suitable for unloading delicate fruit and vegetables. The RC1-111 is self-adjusting to manage either plastic or wood bins of different types, and bins are loaded and removed using a manual pallet trolley or forklift.
The RC1-111 is available with either electromechanical or pneumatic vibrating options to unload produce.
RC1-111 at a Glance
Single bin tipper
Suitable for delicate fruit and veg
Tip up to 35 bins per hour
Suits: Apples, Apricots, Avocado, Citrus, Grapefruit, Kiwifruit, Lemons, Limes, Mandarins, Nectarines, Oranges, Passionfruit, Peaches, Pears, Stone Fruit, Tomatoes, Tropical & Exotic Fruit
| | |
| --- | --- |
| Output: | Up to 35 bins per hour |
| Installed power: | 4 kW - 50 Hz - 400V |
| Bin dimensions: | Width 80cm-122 cm, Length 110cm-122 cm, Height 54cm-85 cm |
Suits: Apples, Apricots, Avocado, Citrus, Grapefruit, Kiwifruit, Lemons, Limes, Mandarins, Nectarines, Oranges, Passionfruit, Peaches, Pears, Stone Fruit, Tomatoes, Tropical & Exotic Fruit