A vertical clipping machine to pack fresh fruit and vegetables into net bags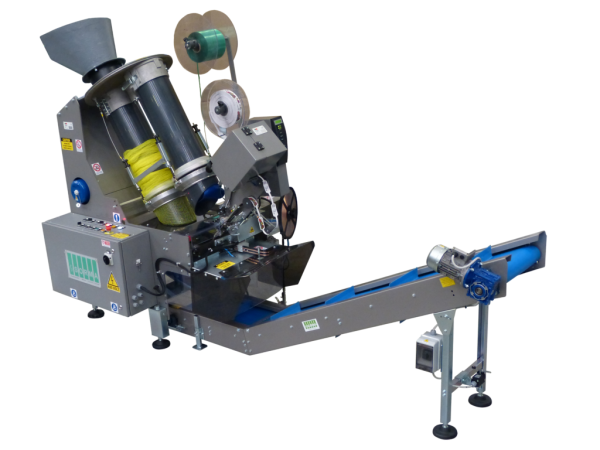 A vertical clipping machine that packs a variety of fresh fruit and vegetables. The RB2-120 uses woven net to form bags closed with copper wire and a wine glass tag.
The RB2-120 has two net tubes of 225mm in diameter allowing fast changeover of tubes to maintain production levels. Produce is sent into the holding tube for loading into one of the two net holding tubes either manually by an operator or automatically by an upstream weigher or counter.
Options for the RO1-120 are electronic printing of packing data, a ribbon holder to add a ribbon strip handle and a net loader for loading net into the feed tubes.
RB2-120 at a Glance
Makes up to 40 packs per minute
Bag Sizes from 500g – 2.5kg
Makes net bags with wine glass tags
Suits: Avocado, Chestnuts, Citrus, Garlic, Kiwi, Melons, Onions, Pomegranate, Potatoes, Walnut
| | |
| --- | --- |
| Production: | Makes up to 40 packs per minute |
| Bag Sizes: | 500G - 2.5Kg |
| Net Tube: | Two 225 mm diameter tubes |
| Power Required: | 2Kw - 50Hz - 400V |
| Air Consumption: | 120 Nl / Minute - 6 Bar |
| Related Weighers: | P04, G12, P14, G09, EDP and Newtec |
| Related Counters: | CL1 |
| Related Packaging: | Wine glass tags, woven net, copper clip wire |
| Bag Type: | Net Bag |
Suits: Avocado, Chestnuts, Citrus, Garlic, Kiwi, Melons, Onions, Pomegranate, Potatoes, Walnut