This bagger adds cardboard headers to the pack for that something different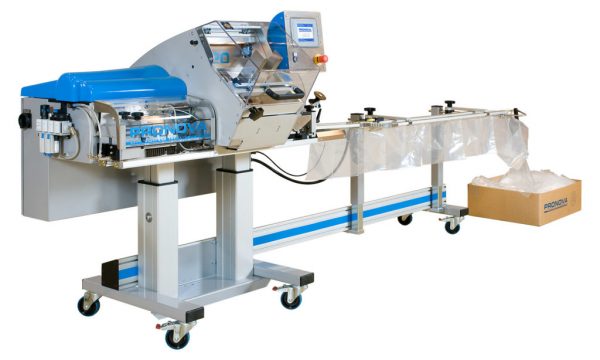 This robust bagger adds cardboard headers to the bag as they are sealed. As with all Pronova baggers, this one is simply designed and has only a few moving parts, so it's easy to use and easy to maintain.
The 520 has opening arms that are up to 5 metres in length and the bags are linked together and hang unsupported along these arms. The bagger opens several bags at a time, fills all of them simultaneously, seals the bag and adds the header.  Bag sizes can be between 50 – 800 mm wide, and the cardboard headers between 50 – 250 mm wide and 50 – 100 mm high.
Bag openings are adjustable for different shapes and sizes of produce but the 520 will form, fill and seal up to 50 bags a minute depending on the bag size and width.
520 at a Glance
Adds cardboard headers 50 – 250 mm wide and 50 – 100 mm high
Bag width – 50 – 800 mm
Makes stand up pouches
Opening arms up to 5 metres in length
Continuous or intermittent bag feed
Suits: Pouch packs
| | |
| --- | --- |
| Packing speed: | Depends on bag-width but up to 50 bags per minute |
| Bag width: | 50 - 800 mm |
| Headers: | 50 - 250 mm wide and 50 - 100 mm high |
| Bag options: | Re-closable, perforations, hanger holes, stand-up pouch |
| Bag materials: | PE, PP, laminates |
| Electrical supply: | 400 V 3-phase |
| Power: | 3 kW |
| Compressed air: | 600 kPa, 7 m3/h |
Suits: Pouch packs